Medisun Regenerative Medical Center and Health Summit
Cancer Vaccine | White House Cancer Lunar Plan | Cancer Proton Beam Treatment
ShenZhen- Hong Kong-GuangZhou
The Medisun Medical Health Summit, co-sponsored by Medisun Regenerative Medical Group, New Life Group and Sunshine Medical Group, was held in Shenzhen, Hong Kong and Guangzhou from September 6 to 9, 2017. The theme of this summit is centered around the prevention and treatment of cancer. The authoritative release of cancer vaccine is the strongest focus of this summit.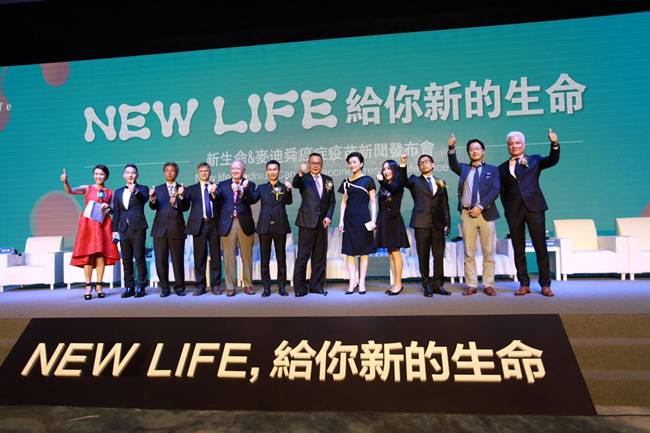 Medisun Medical Group has invited a number of authoritative scientists, medical experts, industry leaders, government agency representatives, business leaders and socialites from the United States, Europe, Japan, Hong Kong and Mainland China to collaborate on cancer prevention worldwide. Leading medical health consultations such as therapeutic technologies, industry regulatory development, and medical platform construction have been fully explored. Nearly 5,000 entrepreneur representatives, medical experts and doctors from the Chinese health industry participated in the listening and sharing.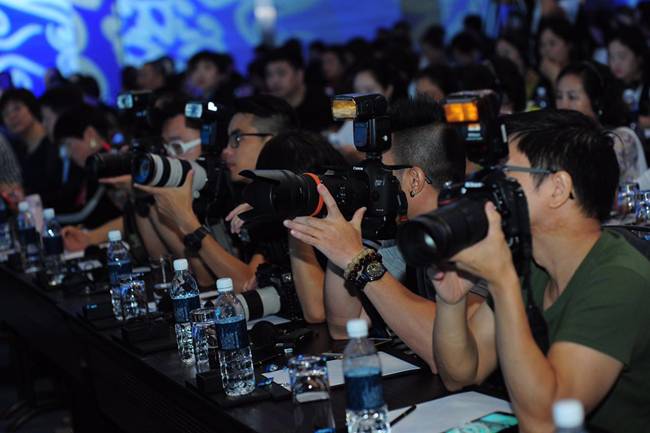 Dozens of media interviews and reports at the summit
Madison Cancer Vaccine Launch Ceremony
Chairman Danny Wong said: "The advent of cancer vaccine is the strongest gospel of cancer prevention!"
According to the World Health Organization (WHO), approximately 14 million new cancer cases are diagnosed each year worldwide, and this number is expected to reach 21 million by 2030. As global treatment costs rise, cancer prevention measures are becoming more and more important, which has also made cancer prevention and treatment a high-profile international issue. Medisun's comprehensive introduction of cancer vaccines is undoubtedly the strongest gospel for cancer prevention. The WT1 gene is a gene representing tumorigenesis in humans, and all human cancers are associated with this genetic mutation. The Nobel Institute of Ecological Medical Sciences has discovered a pathway to inhibit mutations in the WT1 gene, which can be vaccinated to produce memory T cells that inhibit WT1 gene mutations, which are immune to humans.
In addition, Medisun is also committed to the development and clinical use of a variety of other vaccines. Most of the vaccine technology comes from the United States, investing in rapid response to the pandemic virus and cancer control vaccine technology platform, with a market size of more than 2 billion US dollars. The vaccines invested by Medisun can be modularized in Asia and China to produce vaccines that are fully compliant with the United States. Including: Zika virus, Chikungunya fever, Zika/Chikununya heat combination, Ebola virus, human papillomavirus HPV treatment vaccine, head and neck cancer, cervical cancer, cervical lesions, simple Herpesvirus HSV, hepatitis C virus HCV, hepatitis B virus HBV,etc.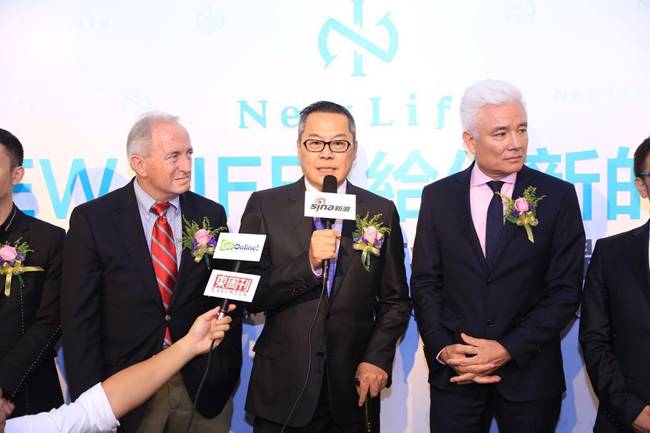 Mr. Danny Wong, Chairman of Medici Medical Group, was interviewed by the media about the release of cancer vaccine.
Chairman Danny Wong specifically said: "China's rapid economic development over the past 20 years has been accompanied by a wave of globalization. China has integrated into the international community in various fields. At the same time, China has introduced high-standard medical technologies and services from Europe, the United States and Japan. It is our mission to make full use of Hong Kong's advantages as a mature international metropolis and special geographical factors to provide the world's most advanced medical care to the people of the motherland.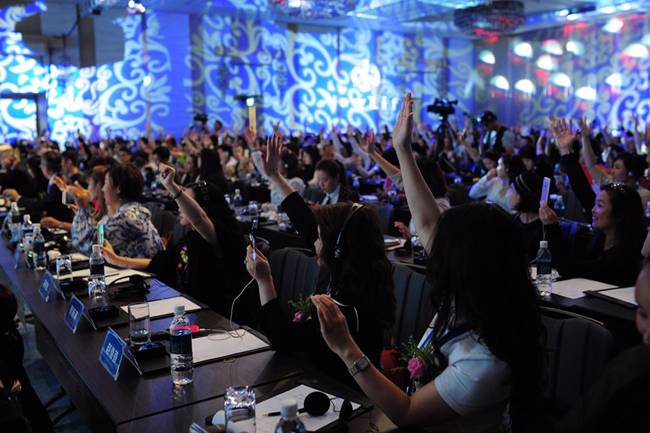 On-site participants actively asked questions from the cancer vaccine and new cancer treatment technologies to participate in the seminar.
Medisun participates in the White House Cancer Month Plan
Mr. Terry Lierman said: "The greatest progress and breakthrough of mankind is the birth of cancer vaccine!"
Mr. Terry Lierman, a core member of the White House Cancer Month Program, the NIH of the National Institutes of Health, and the founder of the FDA Board of Directors and director of the Meditech Group, said that cancer landing is an amazing cause. It is planned to complete the treatment of 20,000 cancer patients with 60 different technologies worldwide by 2020. This is a task that would have taken at least 10 years to achieve, and we will now achieve it in 5 years. The cancer "moon landing plan" advocated by former US President Barack Obama in 2016 is also the focus of this summit. The plan is led by former Vice President Joe Biden. The goal is to break the boundaries that hinder the cooperation of researchers and accelerate the research of cancer diagnosis and treatment in the future. 5 years to double the progress of anti-cancer research. The six major US cancer "moon landing programs" include cancer vaccines, high-sensitivity cancer early detection, immunotherapy and combination therapy, single-cell genomic analysis of cancer cells and tumor microenvironment cells, new treatments for childhood cancer, and enhanced data. shared. To this end, the United States and Canada, Hong Kong, Germany, Switzerland, Japan, South Korea and other countries, the first-class research units to establish cooperative relations, large-scale joint cancer research and treatment, toward precision Medisun. The Medisun Medical Group is a member of the Cancer Month Program and will also participate in this historic mission.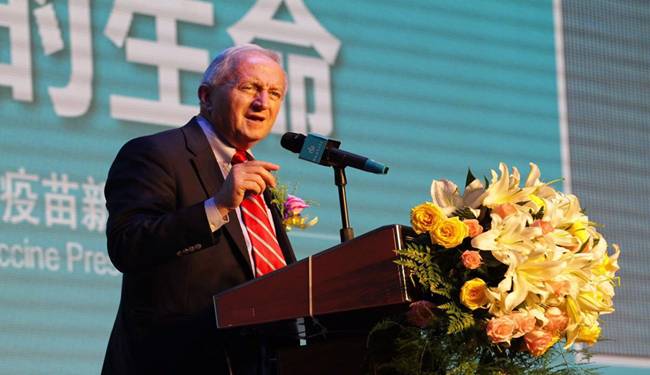 Mr. Terry Lierman talks about McGrady's participation in the White House Cancer Month Plan
Medisun introduces Mayo proton beam therapy
Dr. Michael Haddock said: "The Mayo proton beam is a great advancement in the precise treatment of cancer!"
As the Asian Medical Service Center of the Mayo Clinic in the United States, Medisun invited Dr. Michael Haddock, Chairman of the Mayo Radiation Oncology Clinical Practice Committee and Vice Chairman of the American Society of Surgery Oncology (ACOSOG) Committee to talk about radiotherapy for cancer. Dr. Haddock talked about the current Proton Bean, the world's leading cancer radiotherapy technology, Mayo currently has the most authoritative equipment, operations and medical team for global proton beam therapy. Mayo's proton beam therapy program is the exclusive feature of pen beam scanning. It can accurately target tumors and prevent healthy tissues from being affected, thus achieving ideal cancer treatment, especially for treating children with cancer. For cancers with high mortality and lung cancer, proton beam therapy has obvious advantages compared with traditional radiotherapy.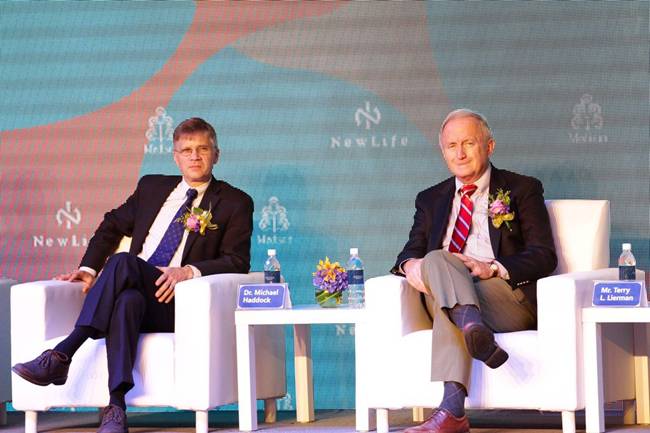 At the Hong Kong Summit, Dr. Michael Haddock (left), the authoritative doctor of Mayo cancer proton beam therapy, answered questions from guests at the scene.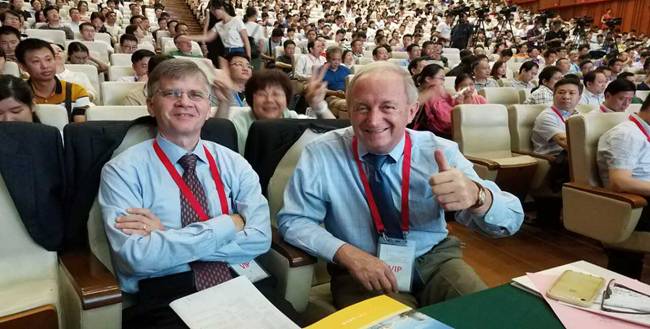 Dr. Michael Haddock (left) and Mr. Terry Lierman (right), the authoritative doctors of Mayo cancer proton beam therapy, at the Guangzhou Summit.
Japanese NKT immune cell therapy
Dr. Degang said: "Cancer vaccine and NKT immune cell therapy are the strongest partner in cancer prevention and treatment!"
Haruhiro Tokuoka, CEO of Riken Immunization and Reproductive Medisun, Japan, Dr. Degang Governing, talked about immunotherapy for cancer. Japan has always been a pioneer in cancer immunotherapy and has extensive clinical experience. Japan Riken and Medisun have worked closely together and established the Medisun Precision Medical Joint Venture, which applies NKT immunocytotherapy outside the traditional cancer treatment to clinical treatment of various types of cancer in the early, middle and late stages, and has clinically proven to greatly improve cancer patients. High quality of immunotherapy at the same time as quality of life with almost no side effects.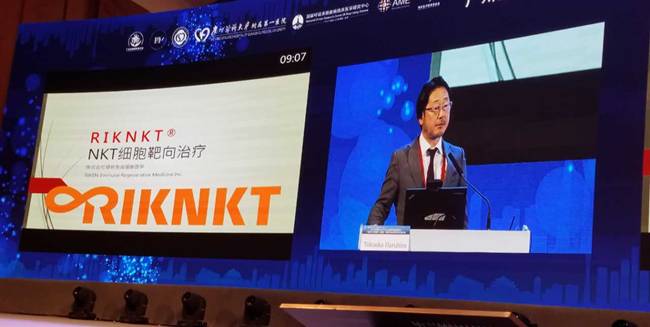 Dr. Kazuoka Kazuo of Japan at the Hong Kong Summit to explain the effectiveness of NKT immune cell therapy in clinical treatment of cancer.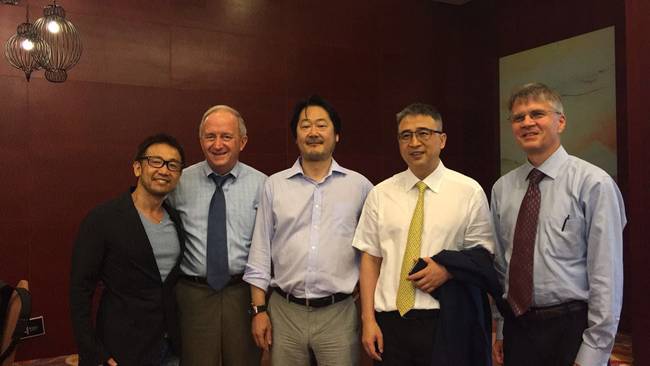 Dean He Jianxing (second from right) of Guangzhou Medical First Hospital visited the Guangzhou Summit and participated in Dr. Degang Zhiwei (third from left) on cell immunotherapy
Precision Medisun and anti-cancer cancer
Ms. Yanglan said: "As a mother, I chose to give my daughter a HPV cervical cancer vaccine; now the launch of the cancer vaccine is even more exciting!"
In today's society, everyone is tired of work, and it is often the easiest to ignore their good habits, which leads to the emergence of various diseases . In fact, "health is the first wealth of life", Emerson's famous interpretation perfectly interpreted the importance of a healthy life to people. Ms. Yang Lan, a well-known Chinese media person, attended the summit as a guest and shared ideas about health and happiness with the guests. She said that the pain caused by cancer patients to the family cannot be expressed in words, and health is good for every family. Precious, we need to follow the development of science and technology to update our medical knowledge. Nowadays, precision Medisun has brought us new choices. While we are not blindly following, we should fully understand the physical condition of ourselves and our families, and choose the right medical health program for ourselves.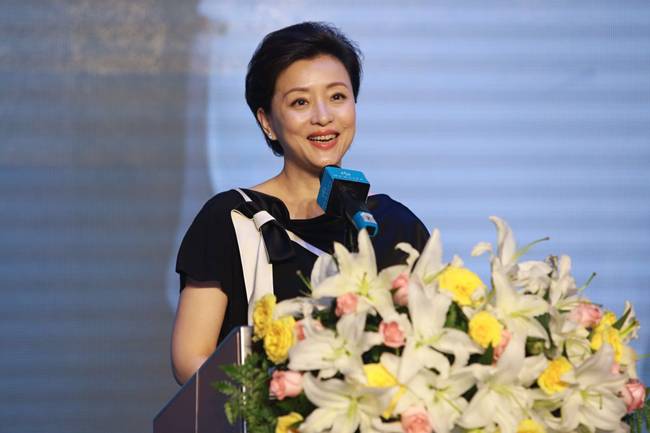 Ms. Yang Yu shared about cancer treatment.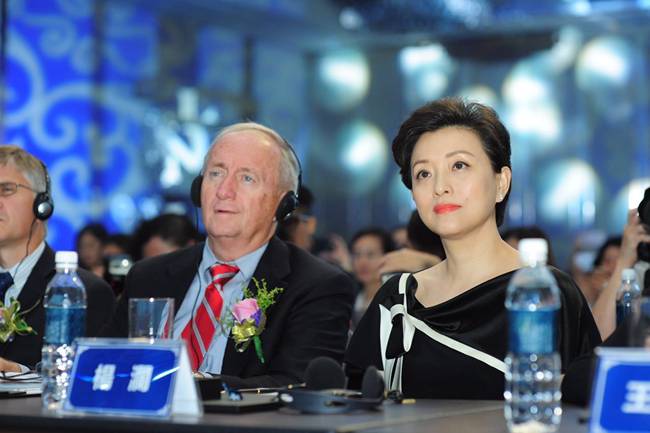 Ms. Wu Shuqing, the Honorary Director of the World Trade Center Association and the Standing Committee of the National Committee of the Chinese People's Political Consultative Conference, was unable to visit the summit due to the temporary overseas meeting. She also sent a congratulatory message to the summit and congratulated Chairman Danny Wong of the Medisun Medical Group: "The summit has deepened Hong Kong with the Chinese mainland again, we are highly concerned about the medical and health industry. Therefore, I believe that Medisun Medical Group will continue its leading position in the field of medical and health care. Since the beginning, I have seen the entire team of Medisun under the leadership of Chairman Danny Wong. Unremitting efforts and dedication, I am convinced that today's event is only the beginning, I hope that more results will be shared with the whole society."
As a pioneer in the field of stem cells, cancer prevention and treatment in the world of regenerative , Medisun Medical Group has been committed to introducing the world's leading cancer prevention and treatment technologies and providing the most advanced, professional and excellent medical and health services to the society. The release of the cancer vaccine is a revolutionary advancement in the field of cancer prevention. Ancient smallpox is terminally ill, and now a single shot of smallpox disappears; in the past, hepatitis B was terminally ill, and now a vaccine is immunized for life; yesterday, cancer is terminally ill, and today's cancer vaccine keeps cancer away. Time is advancing and science is progressing. We must have a mentality of accepting progress. We believe that cancer prevention can provide shelter for the family and the health and well-being of society.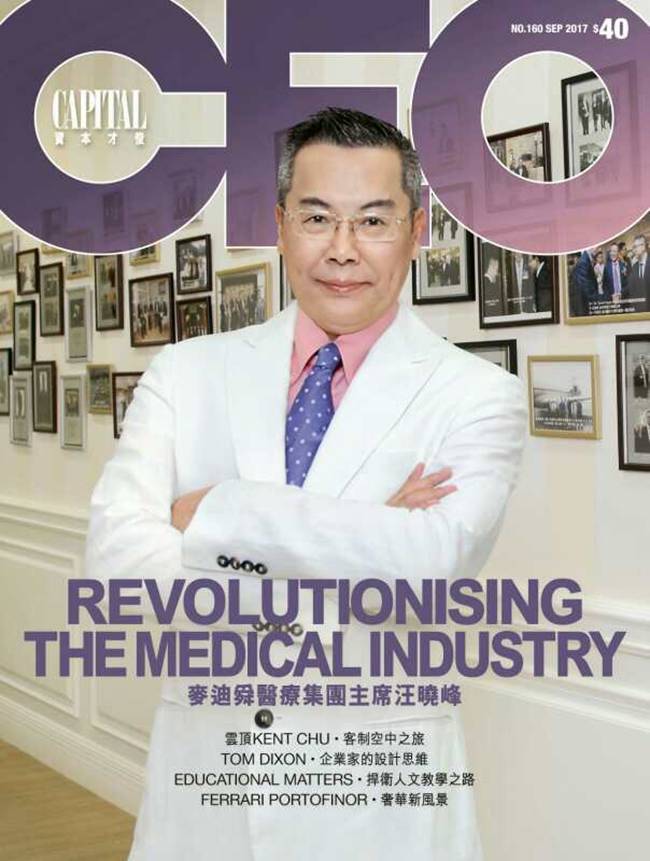 Stay tuned: Hong Kong's latest publication "CAPITAL" magazine in September, cover story "Mr. Danny Wong, Chairman of Medisun Medical Group" and cover story "New Revolution in Medical Industry".
You can contact the Hong Kong Medisun Regenerative Medical Center to receive a magazine. Contact as below:
Phone: +(852) 2582 0188
Email: info@medisun.hk
WeChat: medisuninfo
Website: www.medisun.hk
****************************************
Medisun Medical Group
Medisun Medical Group is a professional medical investment group dedicated to the research and development and commercialization of global regenerative products, as well as top hospitals and treatment centers. Located on the 25th floor of Ao Teng Plaza, Kowloon Bay, Hong Kong, the Medisun Reproductive Centre has a 50,000-square-foot stem cell GMP production facility, a cancer treatment centre and an anti-aging centre. It brings together European, Japanese, American and individual Chinese experts to be rigorous and professional. The development process provides immune cell therapy and a variety of stem cell health treatments. As the Asian service organization of Mayo Clinic, the center provides Mayo remote consultation and secondary treatment to enable Chinese patients to enjoy authoritative medical services without leaving the country. More than 3,000 biomedical tests provide the most predictable health protection for the health of our clients. Medisun has been fully supporting the development of the new life and health platform, and is committed to the deepening of the new products and technologies of regenerative Medisun through this platform, truly benefiting the health of the whole society.
For more details, please visit http://www.medisun.hk/